Woodland Hospital, part of Ramsay Health Care marked their 30th anniversary on the 4th June 2020. We are extremely fortunate to have seven of their founding staff members ( Jane Jackson, Deborah Harker, Karen Reynoldson, Ian Fraser, Claire Smith and Mary Green) and founding Consultants – Dr Reeve ( Radiologist) , Mr Baranyovits ( Consultant Ophthalmologist), Mr Wood ( Consultant Gynaecologist) and Mr Lee ( Consultant Ear, Nose, Throat Surgeon) still working at the Hospital. Our 30th celebrations have been postponed due to current restrictions, however we celebrated this special milestone the best way we could.
The Hospital has undergone three site developments over the three decades, most recently a £8million investment in 2018. The Hospital now has 4 laminar flow theatres, 28 inpatient rooms, a day case unit, 10 consulting room, diagnostics unit including a static MRI and mobile CT scanner and an onsite physiotherapy department. Woodland Hospital is committed to providing the highest quality of care and outcomes, as well as be the 'number one' private healthcare provider in Northamptonshire.
Woodland Hospital is currently supporting the National Health Service to assist with its response to the COVID-19 outbreak. Members of their clinical staff were deployed to Kettering General Hospital's ITU to care and treat Covid-19 patients and to Northamptonshire's care homes to swab residents to protect the most vulnerable in our local community. As a Covid-free site, the hospital also continues to support the local trust with cases such as trauma, cancer and breast services.
David Munt, Hospital Director says "We're immensely proud to have treated the Northamptonshire community for 30 years. I would like to thank our hard working and dedicated staff and doctors ( past and present) and the continued support from our primary care colleagues and patients. Patient care is at the heart of everything we do and this is reflected in the Ramsay Way 'People Caring for People ', which has never been more true than today.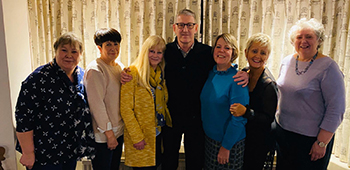 Images used on this website were photographed before social distancing measures and guidelines were put into place.