North Downs Hospital has again been recognised by patients as one of the best private hospitals in the UK, winning the 'Patients' Choice' award from Private Healthcare UK for the second time.
Private Healthcare UK is an independent online guide to private healthcare, offering a gateway to private treatment, cosmetic surgery, dentistry, private doctors and services such as health insurance. Their Patients' Choice award recognises those hospitals and clinics that deliver excellent customer care and a great patient experience. The selection criteria include achieving an overall patient rating of 4.5 or higher out of a 5 based on the reviews given by patients on the website: www.privatehealthcare.co.uk.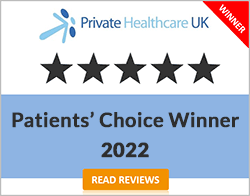 Hospital Director, Monica Clarke said "We were delighted to receive this Patients' Choice Award. It is recognition of the whole team at North Downs Hospital, who always strive to put patients first and give them the best possible care. Excellent customer care and a positive experience are really important to us, and we are very grateful to the patients who have given their feedback.''.