The trek took 17 days and covered a total distance of 82 miles (133km). Mark described the hike as 'the biggest challenge' of his life. Mark completed the challenge with a friend and raised over £3000 for charity.
The pair were full of energy for first couple of days, enjoying the local culture and scenery. After about six days, fatigue and reduced oxygen levels began to take their toll. By day eight, the pair recalled barely being able to put one foot in front of the other.
Mark said: "The views were amazing, the scale of everything is unbelievable, and we were lucky enough to see an avalanche across the valley."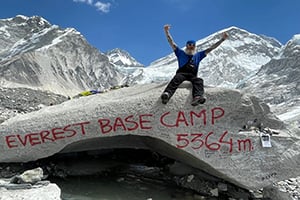 Mark completed the hike to raise money for Sunflowers Suicide Support charity, supporting his local community. The charity was set up in 2016, provides families who have experienced a loss with practical and professional support.
Sunflowers Suicide Support charity congratulated the duo, describing their efforts to raise more than £3000 was a huge achievement.

Ramsay Cares - Caring for our Community
Caring for our community is an important part of our new Ramsay Cares Sustainability Strategy. We are committed to making a meaningful, positive difference in the world - for current and future generations.