Prostates have a few lobes, each of which can grow and cause blockage. It may be important to find out if you have an obstructive median lobe.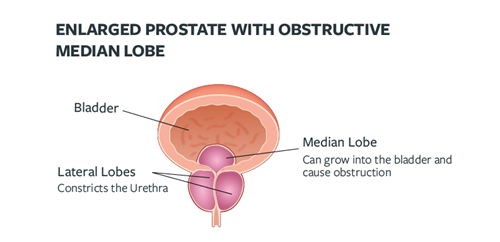 The National Institute for Health and Care Excellence (NICE) has produced guidance on Aquablation Treatment:
Aquablation robotic therapy for lower urinary tract symptoms caused by benign prostatic hyperplasia. Medtech innovation briefing [MIB315] Published: 31 January 2023.
These briefing states that:
The technology is Aquablation robotic therapy. It is used for transurethral water jet ablation for lower urinary tract symptoms caused by benign prostatic hyperplasia.
The innovative aspects are that transurethral water jet ablation does not use heat to remove prostate tissue and the technology can be used with prostates of any shape and size.
The intended place in therapy would be as an alternative to standard care for people with lower urinary tract symptoms, caused by benign prostatic hyperplasia that needs surgical intervention.
The main points from the evidence summarised in the NICE briefing are from 5 studies, which showed that Aquablation therapy is as effective, as transurethral resection of the prostate, for the removal of prostate tissue for people with benign prostatic hyperplasia.
Experts advised that the technology is innovative compared with standard care and offers additional benefits such as an increased ability to preserve sexual function and the potential to offer day-case procedures.
NICE have previously issued guidance on:
Transurethral water jet ablation for lower urinary tract symptoms caused by benign prostatic hyperplasia. Interventional procedures guidance IPG629] Published: 19 September 2018.
Mild symptoms are usually managed conservatively using medication. If BPH symptoms are left untreated, bladder and kidney function may be impacted over time. Additionally, using medications over a prolonged period to manage BPH symptoms, may result in some side effects.
If conservative treatment is not working, or the symptoms get worse, your consultant will discuss, the surgical options available to you and the associated risks/ benefits. One of those options being: Water ablation
The procedure should only be performed by Consultants who have been trained in this procedure using the technology. A number of Ramsay Hospitals and Urology Consultants now offer the Aquablation procedure for BPH USING: 'PROCEPT BioRobotics' technology.
Water ablation
Computer controlled high pressure water is used to destroy some of the prostate tissue, making it smaller.
Water ablation is probably less likely to cause side effects than other a transurethral resection of the prostate (TURP) techniques.
The possible advantages of the Aquablation procedure, 'include a reduction in resection time compared with other surgical methods, and the potential to preserve sexual function. The procedure is heat-free, which removes the risk of complications arising from thermal injury. (NICE IPG629)'.