This week Amber from Boston Scientific visited West Midlands Hospital to present Consultant Urologist, Mr Shahzad his expert user certification for reaching the milestone of 50+ REZUM Therapy procedures.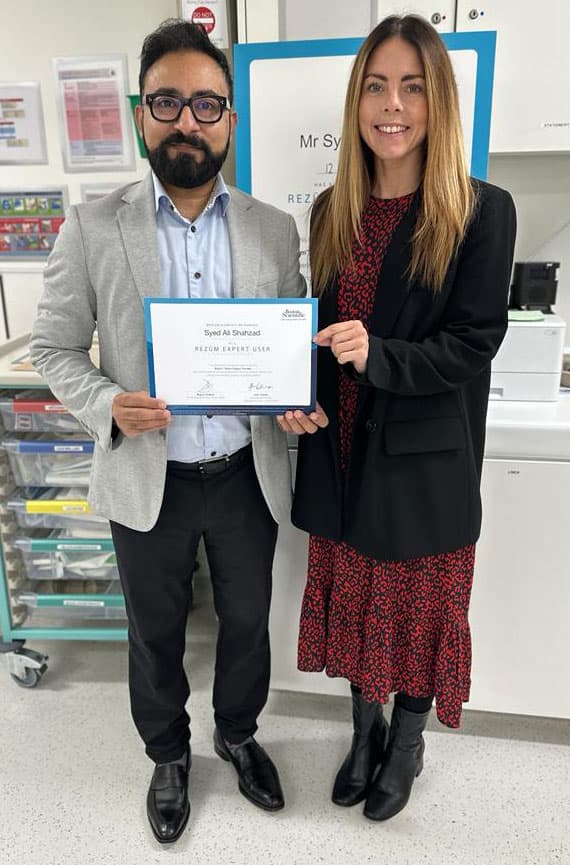 The designation is intended to recognise expertise and commitment to delivering effective, long-lasting therapy to men suffering from benign prostatic hyperplasia. We would like to congratulate Mr Shahzad on this brilliant achievement but also congratulate and recognise the team working alongside Mr Shahzad, who are such an integral part.
Benign prostatic hyperplasia (BPH) with associated lower urinary tract symptoms (LUTS) is a common medical condition in males over 50 years of age and is not usually a serious threat to health. In the United Kingdom the number of men with symptomatic BPH who require a surgical treatment is projected at 25,000 annual incidences.
REZUM is suitable for the majority of men presenting with urinary symptoms due to an enlarged prostate. It is carried out as a day procedure and is an excellent choice for those who wish to retain their sexual function.
To find out more about the range of Urology treatments that we offer at West Midlands and Stourside Hospital please click here.